MKCL – Simplifies Your Business
Innovative Computer Services
For more than 20 years we have been developing innovative services for national and international customers in the IT sector. In addition to logistics, production and IT hardware trading, our strengths also include demopool management, our own web portals, internet shops and software development.
Tailor-made solutions
We use our experience and expertise in a wide variety of IT projects. We take care of special cases and exceptions that present our customers with new challenges and that lie outside the norm.
Together with our customers, our team of experts develops tailor-made solutions that we implement quickly, efficiently and economically. In this way we keep our customers' backs free so that they can continue to concentrate on their core business!
MKCL Demopool
In the MKCL demopool we configure IT demonstration goods for Europe-wide use as test devices in companies. These test runs allow companies to verify that the device meets their requirements before buying it in bulk.
NBWN – Notebooks wie neu
Our sales organization, Gustav Windeit GmbH, markets the demopool devices returned from the test positions to dealers and consumers via the brand "NBWN – Notebooks wie neu" (notebooks as new).
The notebooks, tablets & computers are used very little before they are refurbished in our maintenance center so that they are as good as new when sold. Most of them even have a manufacturer's warranty that is still valid. Thus, we can offer high-quality business hardware at attractive prices on notebookswieneu.de.
In addition, we also market other used devices from various projects.
Our Unique Marketing Model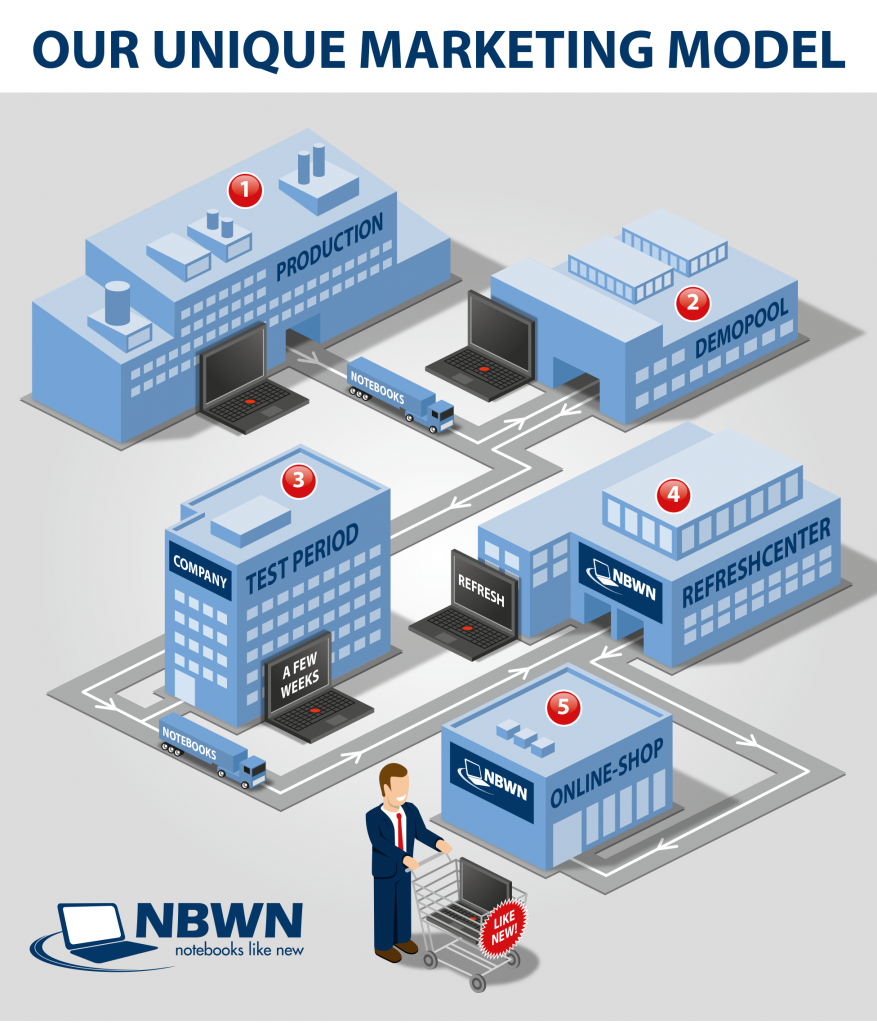 (1) The devices are produced by the manufacturer.

(2) The devices are made available for testing in the demopool.

(3) A company receives one or more devices for testing.

(4) After a few weeks, the devices are returned and go into remarketing. They are subject to an optical & technical examination, as well as a revision-safe data deletion.

(5) The renewed devices are offered for sale via our online shop notebookswieneu.de.